This is a Sponsored post written by me on behalf of
Bahama Breeze
for
SocialSpark
. All opinions are 100% mine.
I was pleasantly surprised when my boss let us out of work early today to go out and enjoy the 4th of July weekend. D and I don't get to go to Bahama Breeze for their happy hour often because it is from 4pm-6pm and by the time I get off of work, it is usually too late for us to go. Bahama Breeze has the best happy hour in town. Choose from $5 appetizers, $2 beers, and $4 martinis. The live music on the patio makes Bahama Breeze a great place to unwind after a busy work week or a nice place to visit with family and friends.
I mentioned above that Bahama Breeze has the best happy hour in town but starting June 23, 2014, they will begin to feature their exclusive
Bahama Breeze Summer Beach Bash
on Saturdays which includes a mojito bar where you can choose your fruit and rum while listening to live island music! I like mojito's but I really enjoy pina colada's and pineapple beverages. The
Bahama Breeze Ultimate Pineapple
is delicious! I paired mine with their classic coconut shrimp and it was perfection! D and I couldn't help but reminisce about our trip to the Dominican Republic last summer while enjoying our dinner!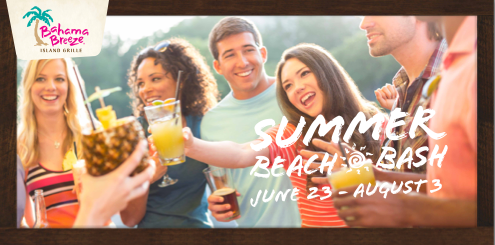 Bahama Breeze is the summer desitination for good times. D and I enjoy Bahama Breeze's laid back atmosphere, delicious island style foods, and great drinks. Enjoy an iced cold beer, mojito, martini, or the ultimate pineapple while snacking on delicious eats. My favorite is the coconut shrimp and D love's the jamaican jerk shrimp. There is something for everyone on the menu!
Do you love Bahama Breeze and want to win a $25 gift card so that you can go and enjoy the Summer Beach Bash? Attend your local Bahama Breeze Summer Beach Bash and you can participate in the Instagram Selfie Contest! Take a creative selfie of yourself while you are having a blast at the summer beach bash and tag #MyBBSelfie You will automatically be entered to win a $25 Bahama Breeze Gift Card! Hop to it! We all love taking selfies!! Might as well enter to win a $25 gift card!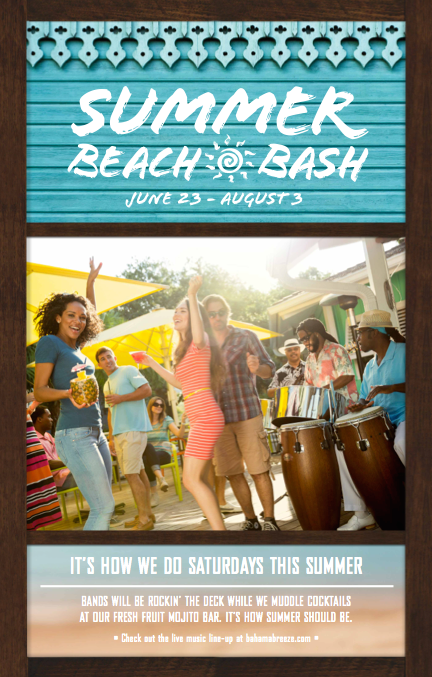 Stop in to Bahama Breeze and enjoy the Summer Beach Bash before it ends on August 3, 2014!