This is my first Sunday Social link up and I am excited to be joining all the lovely bloggers who are also taking part in Sunday Social!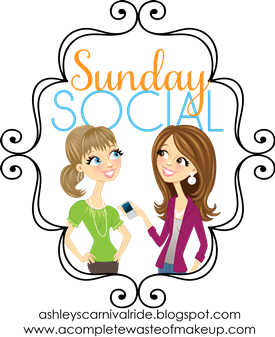 If this is your first visit to my blog; Welcome! I am so glad you are here! If you are a returning reader; I am so glad you are back!
1. What is your dream job?
Currently I don't have a dream job in mind. I LOVE the job that I have now and the environment where I am working so much that I can't imagine doing anything else right now. I also love blogging after my 8:30-5 job and am so happy that I have the time to do it.
2. If you had just won the lottery and didn't need to work for money, what would you do with your time?
I may be crazy but I think I would still work. If I had lots of money I would travel more and take longer trips to places like London, Venice, Amsterdam, etc. I have been there and loved it so much that I dream about going back. It has been a decade since I was there so I am sure so much has changed!
3. When you were a kid, what did you want to be when you grew up?
I wanted to be so many things. Of course I wanted to be a princess.
4. What career advice would you give to someone just starting out in your field?
Be open to learning from others.
5. What are your biggest pet peeves in life, blogging, and work?
Cattiness, favoritism, and competition.
6. What are your biggest fears?
Failure.
Weakness.
Thanks for stopping by!