We are so excited to celebrate the arrival of a very special bundle of joy! Mandy of Mandipidy and her dear husband will soon welcome a beautiful daughter, Abigail into the world in early August.
Rachel of The Chatty Mommy and I thought it would be fun to put together a little celebration with her online friends to let Mandy know that we are so excited for her and this new chapter in her life.
We have a number of posts planned for Mandy's online baby shower. Mandy will be able to visit each blog post and enjoy a little bit of mommy advice, momma games, little girl apparel, gifts, and all sorts of creativity. Feel like joining the party?! The more the merrier. Just link up below!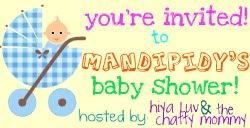 For Mandy's virtual baby shower, I thought it would be fun to post what I would LOVE to do for a real baby shower! Let's just pretend!
bottle favors for party attendees
juice & bottle game to play
yummy diaper snacks
delish rattle cookies
A festive table for desserts, nibbles to eat, and gifts!
Mandy, I know you are going to be an amazing mother. I can't wait to "meet" Abigail!
Much love,
gina
psst, a little something is in the mail for you. xoxo
UPDATE as of 3/6/13
Many people have requested the recipe to the baby bottle jar.
The recipe for the oatmeal m&m cookies is as follows:
1 and 1/3 cup of flour
1tsp baking powder
1tsp baking soda
1/4 tsp salt
1 cup cooking oats
1 cup of m&m's
1/2 brown sugar, packed
1/2 cup sugar

Mix with 1 egg, 1/2 cup melted butter, and 1 tsp vanilla. Shape into balls and place on greased cookie sheet. Bake at 350 for 10 minutes or golden brown.