This giveaway is now closed.
The winner (Emerging Em) has been contacted. Thank you for entering!

Weeks back I got home from work and as usual began talking to Dave about how I would just love to work in social media as my full-time job.
Since 2009 I have interacted with social media on a regular basis in so many ways.
I have used social media to grow my blog, network, grow my handmade business, and learn.
Because of social media,
#setupshop
was born and has been a huge success leading to a blog launch within the next few weeks.
I could go on for days about social media and the impact it has had on me.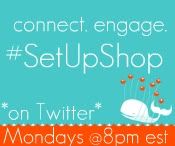 On this particular day Dave turned to me with a huge smile on his face and said, "Oh! I won something for you in my CPA class!" I looked at him with a blank look. I am the last person on earth who would want anything from his accounting class. I am terrible with numbers and am lucky to be able to add 2+2. Beaming, he turned to me and said, "We had an interesting presenter today,
Lee Mikles
, the author of this book. I won the book on social media by answering questions. The book has your name written all over it! It is called
Engage Your Brand
and I thought you would like it!"
Now I was interested! All this time I had been talking to him about my
blog
,
twitter
,
#setupshop
,
facebook
, YouTube, and Pinterest. I swore he tuned me out. But he caught on. I love social media and finding a niche for my brand of handmade items in my
etsy shop
is so important to me. My heart was bursting because he had
heard
me and I was overjoyed at this amazing resource in my hands!
I took the book and began to read. I was hooked.
Engage Your Brand
is written for a corporate business person however I was unable to put it down because I could apply everything to my business.
Co-Authors
Lee Mikles
and
Patrick Callahan
fill
Engage Your Brand
with real life examples on how to engage your brand in social media marketing through networking and building relationships. Specifically, the authors give examples through case studies that show you exactly how one company may engage and build relationships with their clients whereas another merely answers questions or handles complaints. Building relationships is key as you are creating value and a long-term customer. The book touches on motivating your customers to spread the word about you! Creating your own fan base creates word of mouth for you; your product. Your Brand! Your fans are marketing you on facebook, twitter, face to face and are helping you build up your brand.
Engage Your Brand
discusses how to determine your return on investment (ROI) with social media, how to build your best A-Team, and how and when to be transparent with your business online.
During
#Setupshop
we have discussed branding, marketing, and utilizing social media to help your handmade business.
I truly believe in this book and know that you will not only enjoy the read, but will also learn a great deal.
Here is how to enter:
Mandatory: Leave a comment telling me why you want to win this book.
Please include your email address so I can contact you if you win.
(Optional) Extra entries:
*Follow my blog and leave a comment.
*Tweet about the giveaway and leave a comment.
*Blog about the giveaway and leave the link in a comment.
*Follow me on
twitter
and/or
facebook
and leave a comment.
The giveaway will go through Thursday, June 16, 2011.