I am a lover of paper. I think that is obvious based on my last few posts that have been all about just that; paper.
My days consist of a lot of note taking and doing so with cute stationary may just brighten my day. And since I found a great tutorial on a lovely blog that I just recently found, I thought why not give it a whirl?
Do you all know Kara from
Mine for the Making
?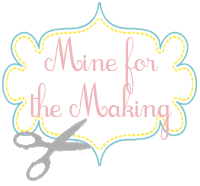 She has some adorable tutorials. I used this
tutorial
to make a really cute covered notebook that was really inexpensive. She used fabric; I used scrapbook paper because it is what I had on hand.
Here is how mine came out. I am giving it away as a gift so I added some things to it like a book mark and an additional note pad. Super cute, right?!
Hey Ma, look what I made!